The exact location of the event and directions to get there will be provided through the mailing list. If you're not already in it, send us an email to:
cfp@alligatorcon.pl
. Word of warning: some people reported following our directions and ending up in a weird masked rich people orgy along with Tom Cruise. If that happens to you, just try to enjoy it, and whatever you do don't let them find out you don't really know the password. The recommended place for your stay in Kraków is the 5 star hotel
Areszt Śledczy Kraków-Podgórze
. Just knock on the door, tell them all about your hacking feats, and you'll find nice people who will be more than happy to let you in - for free! With some luck you can even score a presidential suite if you are bald and dressed in sportswear. Alternatively, here are a few -possibly more comfortable- venues you can try out:
Greg & Tom hostel
at Ul. Florianska is quite decent, centrally-located and has a nice bar too. Additionally, this city has a really amazing
CouchSurfing
community that you should definitely reach out to. You're also welcome to bring a sleeping bag and crash on a friendly local hacker's home, a popular choice of Alligator attendees every year. Transport arrangements are prepared for the occasion in the form of a rusty van with the words FREE CANDY spray painted on the side and the picture of a funny bear you may have seen on 4chan before. Trust the nice man with the moustache, he'll take you where you want to go.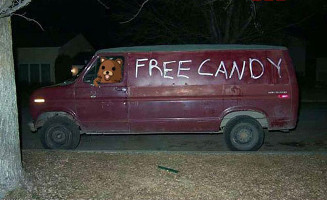 Seems legit.
There are also the
208, 292 and 902 buses
from the Kraków airport to the city center as well as a train to the main station, or you can alternatively fly to Warsaw or Katowice and go from there to
Kraków by train
(it's sometimes cheaper). But there's no free candy in those. On the other hand, the man on the van says he has free candy.